In this accounting course, connection leads to lifelong discovery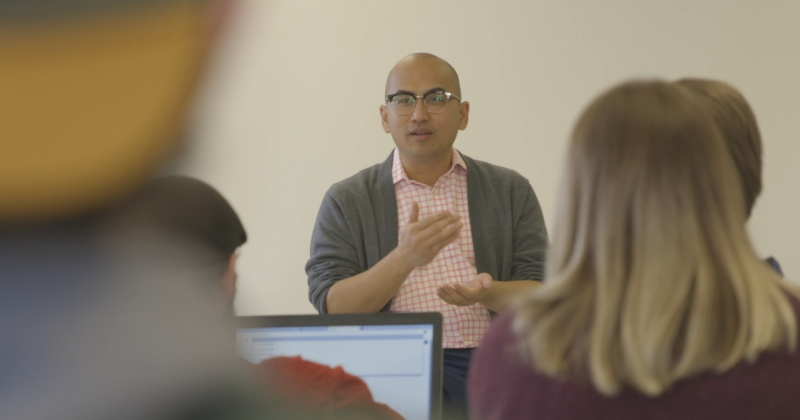 Quoc Hoang is the Director of Experiential Learning at the University of Alabama's Culverhouse College of Business, where his work helps students make the transition from school to work. He also leads one of the Accounting department's graduate level elective courses, Beyond the CPA.
Quoc Hoang believes that as an educator, his biggest job is to connect with students beyond classroom material. That's why the University of Alabama accounting professor always begins his graduate course, Beyond the CPA, by telling students that this class isn't going to teach them about accounting. It's going to teach them self-discovery by way of relationship building.
"So much about accounting is checking a bunch of boxes," Quoc says. "I try to get across that while there are requirements and curriculum and assignments – all the stuff that exists in any program or class – much of their insights will be drawn from working through it together and the discourse that happens through that process."
Quoc had experimented with a variety of nontraditional formats and techniques to encourage connection and introspection including group discussions and journaling. When he began talking with students over Marco Polo, he saw them reach a new level of self-knowledge that stuck with them long after they graduated.
That's why Marco Polo is no longer an experimental component of Quoc's curriculum, but an integral one.
"I wanted to use Marco Polo because I knew that as much as the assignment is just to send a Polo, the result is more than that. "
Taking care of class business with Sharecast
In spring 2022, Quoc piloted Marco Polo's newest free feature Sharecast, for class announcements and larger calls to action. He'd previously used text-based messages through his university's learning management system and had also tried using Marco Polo groups. The first was impersonal; the second got a little chaotic with 20+ students.
With Sharecast, he's able to simplify communication.
"Sharecast offered the ability to do all class communications in the same place that I was previously doing in two different places," he says.
The teacher becomes a trusted guide
During the course, Quoc and his students learn together over Marco Polo. They share their hopes and dreams, ask and answer questions, even challenge each other.
"That's not something that stops," he says. "It's the beginning of a relationship if they want it to be. I also really encourage them to understand that the job of introspection – of thinking about who you are, what you want to do, how to work through some of the challenges and opportunities you're presented with – is forever. And that the people you encounter during your life are part of that journey."