Marco Polo

Plus
Marco Polo Plus is an optional paid subscription plan that unlocks premium features with more functionality and convenience. Plus creates an elevated experience designed to help you stay more joyfully connected.
What's different?
Some of the extra perks historically in the free version are now available with a Plus subscription only, including:
2x, Photo Polos, Notes, and Video Reactions
Bookmarks, Reminders, and Forwarding
Marco Polo remains unlimited and free.
With either our free version or as a Marco Polo Plus subscriber, you'll be able to stay in touch with the people who mean the most to you. The core of Marco Polo - chats, groups, and saved Polos - will remain unlimited and free.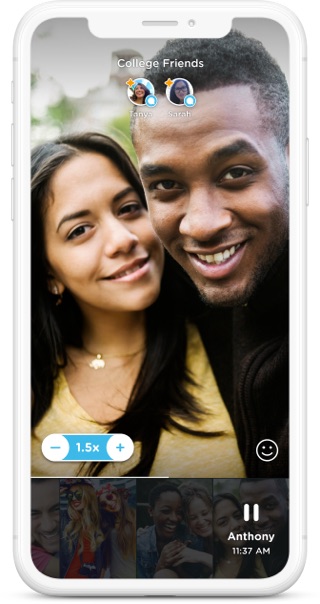 Membership Plans
Your relationships are important to you, and to us, too! We built Marco Polo Plus to be the most convenient and joyful way to stay in touch.
Free
Unlimited ways to stay in touch
100% free with no ads

Unlimited chats

Unlimited groups

Voice effects and camera filters

Notification controls
Plus
$5/month with annual billing
Free 7 day trial
More speed control options: 1.5x, 2x, 2.5x, 3x, you choose

Photo Polos

Bookmarks, Reminders, and Forwarding

New Scratchpad for note taking

Voice-only Polos

Customize reactions with your favorite emoji

Notes and Video Reactions

Polos in HD

6 FREE Plus Passes for friends and family

Plus subscribers can purchase more Plus Passes à la carte
Plus Family
$10/month with annual billing
Free 7 day trial
All the benefits of the Plus subscription

Includes 5 additional subscriptions

You define your family, Plus Family is not limited to members of your household

Up to 66% off individual plan
Give the Gift of
Plus
With each Marco Polo Plus annual subscription, you receive 6 Plus Passes to gift your friends and family.
Each Plus Pass gives your recipients 2 months of Marco Polo Plus, totally free of charge. To access Plus Passes and start gifting, go to Settings in your app.
Story
Marco Polo Plus: Our Big Bet on Human Connection
A Message from Vlada Bortnik, CEO and Co-Founder. The extraordinary level of connection that the world is experiencing during this coronavirus time is beyond anything any of us in the tech industry could have planned for or predicted. As we look around, we see clearly how Marco Polo – built to be good for you […]
Read more
We support our community doing important good for the world.