How a day-of-wedding coordinator keeps bride and groom in a state of bliss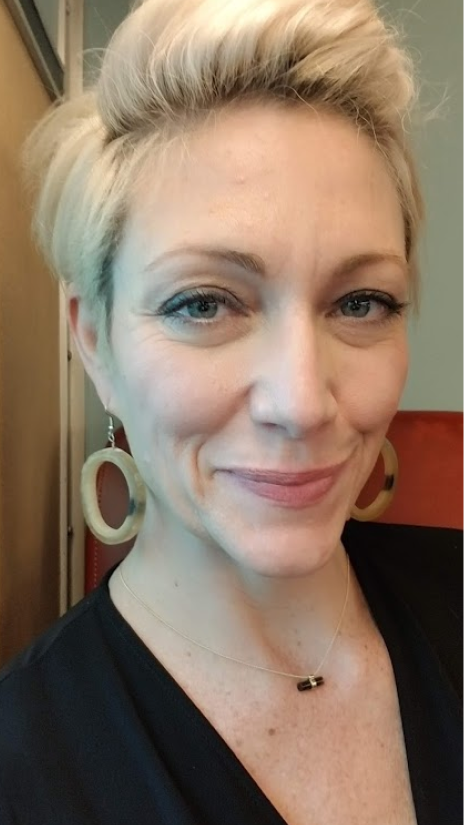 After leaving Chicago's corporate world to spend more time with her children, Courtney Bollettino formed Bollo Hollow Weddings, a day-of-wedding coordination service that offers couples a happy medium between hiring a full-service wedding planner and doing every little thing themselves.
I work with brides who want to plan their own weddings but hand everything over the weekend of. I tie up loose ends, make sure the wedding party is fed and caffeinated, and take care of emergencies no one anticipated. The bride and groom can remain in a blissful bubble.
When I take over, couples can let go
My former career put me at the right hand of CEOs and Managing Directors. I use that experience with my brides. We all have busy schedules that don't always mesh, yet as a one-woman show, I have to project dependability and inspire trust. If I say I'm going to do something, I do it on time.
But I know it can be hard for brides to let go. When I got married in 2012, I did everything myself thinking, if anybody can plan a wedding, it's me. I pulled it off with the help of family and friends, but instead of relaxing beforehand, I was up on a ladder. That was the inspiration for Bollo Hollow Weddings.
Still, even I can't be in two places at once. On one weekend of back-to-back events, I hired someone to run a rehearsal while I was at the first wedding. We couldn't meet in advance, and it was proving hard to convey certain details over the phone.
The week prior, a light bulb went off. I drove to the church and did a Marco Polo virtual tour. I showed my assistant exactly where the bride would enter, where the groomsmen should hang out, even the family's private basement entrance. There's no other way I could have brought her up to speed so quickly or accurately.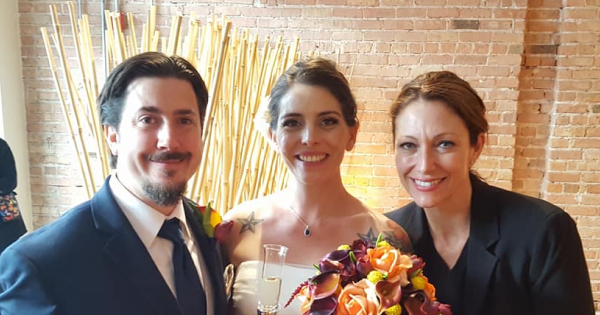 Visuals make the difference
I first learned about Marco Polo on vacation with my sixth-grade niece. I thought it was an app for tweens, but when she Polo'd me after the trip I
realized what a great tool it is for staying in touch with loved ones.
The virtual church tour opened up all kinds of creative possibilities for using the app in my business.
One bride used Marco Polo to show me a large inventory of reception decorations, saving us both a full afternoon. She even held up a framed picture and said, "Please don't lose this; it's the only photo of our grandparents." I Polo'd her back saying, "You can trust that I'll take care of it." My voice and facial expression underscored my sincerity in a way that email wouldn't have.
Another bride hired me through Marco Polo. We tried to set up a meeting over multiple calls and emails, but our schedules weren't clicking. I finally asked if she wanted to connect over the app. Just a couple of Polos later she said, "I'm good. Let's move forward."
"Helping couples enjoy their big day is what I am most passionate about. I just love all the logistics and details that go into the flawless execution of a wedding day."
Marco Polo has upped my service game
Adding Marco Polo to my toolkit has enabled me to:
Pull off seamless simultaneous events by guiding an assistant over Marco Polo. Gain new clientele. A face-to-face exchange can make all the difference. Instill trust. Brides can connect any time and see in my expression that what matters to them matters to me. It puts them at ease. Once I earn couples' confidence, I can take the reins. And they get to fully enjoy their loved ones and a flawless wedding.
4 reasons Courtney can't live without Marco Polo

1. Video communication increases my agility
As a day-of coordinator, aka "doc," I stress to current and prospective clients that I am always on call. Brides can Polo me any time, and it's certain that I'll get back to them much faster than I would over text, phone, or email because it's just easier.
2. Showing is better than telling
On wedding day I become the vendors' point of contact. While the florist is setting up at church, I might go check centerpieces at the reception. I have Polo'd a florist to say, "Hey, there are two arrangements in the foyer instead of three so I pulled one from the back alcove. Does that look okay?"
3. I can quickly establish trust and credibility
When brides hire me, they want to know that I'll represent them well. Putting a face and personality to my name helps them visualize working with me. They see that I'm a normal person, I'm responsive, and I'm legit.

4. I don't have to put on a suit and go to a meeting downtown
Instead, I can have a meeting from my dining room when the kids are napping. I started my own business in large part so that I could spend more time at home with them, and Marco Polo helps make that possible.